In Primary Schools
"Step and Vibe is an energetic, exciting dance club for all ages. It is a great way for the children to be actively engaged in physical activity and most importantly have fun along the way. Step and Vibe exposes the children to a range of cultural music and dances allowing the children to express their personalities, build upon their fundamental movement needs as well as embed core social skills."

Zoe McNeil P.E Coordinator
Step and Vibe can offer your primary school a weekly after school club and class workshops.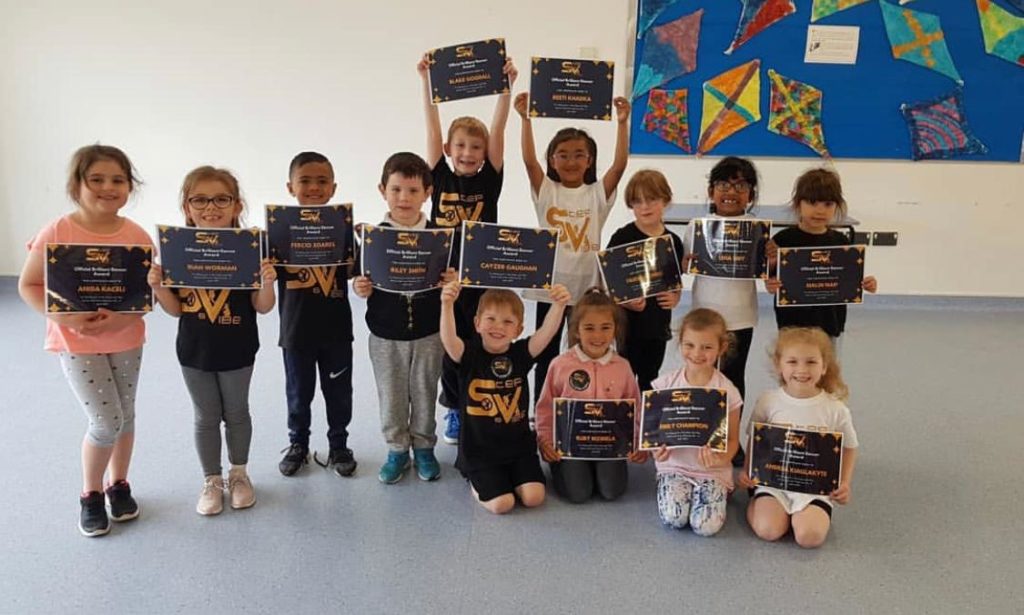 The aims of the dance classes are to:

Build confidence
Celebrate different cultures through dance
Work collaboratively
To have FUN and be ACTIVE
The style of the classes are not highly technical or intense choreography but more to encourage confidence through movement and most importantly have fun. I can offer a range of workshops which focus on different dance genres, from Bollywood, African to Reggaeton Latin and many more. By not focusing on the same dance style each week it gives children an opportunity to explore and engage with a variety of material.

The classes embrace inclusivity and individuality which is why there is always an element of freestyle involved in the classes. This allows the children to feel free and confident to be who they are and also show other children their dance moves.

I believe Step and Vibe is completely relevant to the growing diversity of children in primary schools. Furthermore, it can really benefit those children who may not have the opportunity to be doing dance classes outside of school.

There is a growing concern of obesity in primary schools so why not offer your children an opportunity to experience exercise in a fun, safe and inclusive environment.

Step and Vibe has been running an after school club and class workshops at Wood Farm Primary since January 2018 and references are available upon request.
"The step and vibe dance club was an amazing way to bring out the confidence in children who lacked it in other areas of the curriculum. Every single child who took part was always buzzing with excitement over the music, dance routines and especially the friendly and enthusiastic instructor! "
Jenna Forth, Year 1 teacher, Wood Farm Primary School.

"My daughter really enjoys the variety of dance and comes home after every class eager to show everyone what she has been doing. And not only is Sonal a great, upbeat dance teacher, she is extremely friendly and helpful if you need to know anything."
Parent, Wood Farm Primary School
'In dance club no one gets mad or sad'
Child in Year 2, Wood Farm Primary School

"I love that everybody joins in"
Child in Year 2, Wood Farm Primary School

"I love it when we got to dress up"
Child in Year 2, Wood Farm Primary School

"Dancing to despacito was my favourite"
Child in Year 2, Wood Farm Primary

"Step and Vibe is an energetic, exciting dance club for all ages. It is a great way for the children to be actively engaged in physical activity and most importantly have fun along the way. Step and Vibe exposes the children to a range of cultural music and dances allowing the children to express their personalities, build upon their fundamental movement needs as well as embed core social skills."
Zoe McNeil - P.E Coordinator, Wood Farm Primary School

If this is something your primary school might be interested in then please do get in touch. I would also be happy to come in and run a taster session.